Do you want a chic mobile phone case that complements your character and can match your everyday OOTD? Having it personalized from a custom leather phone case manufacturer would be your best option. But what if their custom designs still can't satisfy you or their rates are too expensive for your budget? The most economical solution would be to make your own leather mobile case.
So if you've come here to learn how to make a phone case out of leather, then you're at the right place! Let us guide you through the process of creating your customized phone case. From the types of leather materials you can choose from to the simple steps on how to make one, we've got you covered!
Pros and Cons of Leather as a Phone Case Material
Let's start with the pros and cons of leather as smartphone case materials first.
Pros
Tactile and eye-catching texture

Provides a sophisticated look

It is stronger than plastic cases

Its soft and slightly rough texture makes it easier to hold and slide into your bag or pocket

Original leather can't break or bend so it has great durability
Cons
Natural leather is more prone to tears and scratches

It offers minimal protection against drops compared to rubber cases

They are more expensive than other materials
---
Genuine Leather vs Faux Leather as Phone Cases
You will usually find leather mobile back covers in two main types of materials: genuine leather and PU leather. So before you create your custom smartphone case, make sure that you know which type of leather will fit your device best first. Below is a comparison between these two:
General Description
| Genuine Leather | Faux Leather |
| --- | --- |
| Genuine leathers are made from animal skins. Cowhide is commonly used but buffalo and goat skins can also be used. There are even exotic leathers that are made from alligator and snake skins. The unique characteristics of the leather make it perfect for creating aesthetically pleasing phone cases. | Faux leathers are man-made products that are treated to look, feel, and smell like genuine leathers. They are also called by many names such as PU (Polyurethane), imitation leather, leatherette, and leather. |
Cost
| Genuine Leather | Faux Leather |
| --- | --- |
| Genuine leathers are more expensive compared to faux leather. They are costly to manufacture, store, and transport. | Synthetic leathers are more affordable. So if you want a cheaper option to protect your phone that has the look of real leather, going for faux leather would be best. |
Durability
| Genuine Leather | Faux Leather |
| --- | --- |
| Genuine leather is stronger, more durable, and can outlast its owner when given proper care. It beats its counterparts when it comes to endurance. Also, the more it is used, the better it will look. It will develop the patina and character that makes it more desirable as time passes. | Although faux leather looks sturdy, it cannot last as long as real leather. Also, it doesn't wear out as attractive as genuine leather. |
Visual Appeal
| Genuine Leather | Faux Leather |
| --- | --- |
| Genuine leather has impressive details that are perfect for creating an authoritative presence, especially if you are doing business. It becomes more visually appealing over time and its distinctive odor complements its look. Full-grain varieties also come in unique patterns. (We will discuss more on full-grain leathers later.) | Since faux leather is man-made, it is more versatile compared to genuine leather. You will find it in a wider array of patterns, finishes, and colors than its real counterpart. However, all of their patterns can be uniform, unlike full-grain leather varieties. |
Ease of Use
| Genuine Leather | Faux Leather |
| --- | --- |
| Since genuine leather is made from natural materials, it is quite malleable, flexible, and breathable. This means that you can manipulate it to any shape you want easier. Also, it will soften as time passes. | Faux leather can be quite rigid so it doesn't provide the same flexibility that genuine leather offers making it harder to use. Plus, it doesn't soften over time like genuine leather. |
---
Types of Genuine Leather Used in Making Phone Cases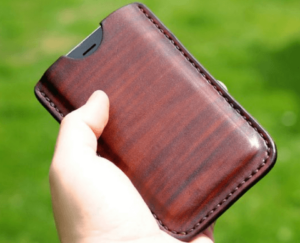 There are different types of genuine leather that are used in making mobile accessories including phone cases. But, there are four main categorizations you can choose from:
#1 Full-Grain Leather
This is the purest form of leather and it is where premium mobile covers are mostly made from. You will find them in single pieces of hide that haven't been buffed or sanded. This means that they will still have some imperfections in them.
Also, full-grain leathers all have unique coloring or markings so you will not find pieces that are exactly the same. They would be your best option if you want the best leather casing for your mobile phone.
#2 Top-Grain Leather
This grain leather is a refined full-grain leather. It is created by removing the imperfections from a full-grain leather. Manufacturers can make them look identical. Although it is the perfected version of full-grain leathers, most people still consider full-grain leathers as better products compared to top-grain ones.
#3 Split Leather
Leather pieces are split during the manufacturing process. While the superior top part is used in making grain leathers, the inferior bottom part is made into split leather. This is a versatile leather that can be divided into thinner parts and used for various purposes. It is also known as corrected leather, painted leather, coated leather, or suede.
#4 Bonded Leather
The last type of leather is bonded leather which is made by putting together pieces of leftover split or grain leather. It is less durable compared to grain leather but it is different from the entirely synthetic PU leather.
---
How Do You Make a Leather Phone Case?
So how do you make your own DIY smartphone case? Now that you know what type of leather would be perfect for your phone, let us give you a few simple DIY phone cases you can follow below:
Making a Simple Mobile Back Cover
Let's start with this quick and cheap sample DIY leather phone case. Create a chic case that looks like the premium cases you buy in stores but at a much affordable price!
Things You Will Need
Clear silicone phone case

Leather (faux)

Craft knife

Small binder clips

E6000 Glue
Directions
Cut some leather that is slightly bigger than the silicone phone case.

Put glue on the case's outside part and then press the case down onto the leather cutout's back part.

Clip the leather piece and phone case together until the glue dries out. You can put a piece of fabric between the leather and the clip to prevent the formation of dents on the leather's outer part.

When the glue has dried out, remove the clips. Cut off any extra leather covering your phone's camera, charger port, headphone jack, and others.

Cut tiny triangles from the leather covering the phone case's corners and glue them flat to the case.

Wait for the glue to completely dry before using the case on your phone. 
Another cool idea you can do is to create a phone case with cardholders at the back. You can just cut out a piece of leather that only covers the back of the silicone case and cut out two smaller pieces. The smaller pieces will serve as cardholders. For this idea, sewing the leather pieces to the silicone phone case would be best. You can find the complete steps here.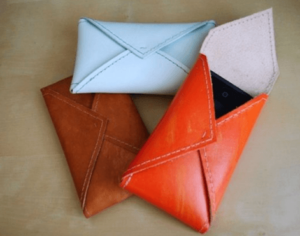 Making a DIY Leather Envelope Phone Case
If you want an envelope-style phone case instead, you can check out the steps below to create an origami-like case for your phone. It looks minimalistic but is still elegant.
Things You Will Need
Leather

E6000 glue

Topstitching thread

Stitching awl

Needle

Scissors

Tape
Directions
Print the

leather smartphone case pattern

and lay it onto the leather.

Tape the leather and the printed pattern to keep them in place.

Poke the holes marked on the pattern using the stitching awl.

Cut out the pattern from the piece of leather.

Manually stitch through the holes to create a dashed line effect.

Stitch again backward to fill the unstitched sections.

Overlap at least three stitches to secure the stitches.

Sew the left and the right flaps together. Make sure that the two poked holes on each flap are aligned before sewing.

Put some E6000 glue on the bottom flap and then tuck it inside. Glue it in place.

Wait until the glue sets in before using the case.
---
How do you make a leather phone holster?
Another most commonly asked question by users is how to make a handmade leather phone holster. You can follow Weaver Leather Supply's video tutorial on how to create a simple phone holster that you can knock out in an evening.
The video will guide you through the whole process. From getting the right measurements for your phone holster based on your phone size to stitching the holster pieces, all you need is there. They even provided a printable pattern along with a complete list of materials that you can buy directly from them.
You might also want to check out these tutorials:
---
Wrapping Up
For sophisticated mobile phone users, leather would be the ideal material because it gives out that classy look that won't go unnoticed. It conveys a sense of fine craftsmanship and luxury that is perfect for protecting your valuable phones. In case you are also looking for leather phone case manufacturers, feel free to check out our other blogs.