If you're wondering how leather phone cases are made to make a profit for it in 2021,Set featured image you're on the right spot! As a leather phone case manufacturer, we've put together this article on how we make phone cases in a factory.
Nomad Rugged Case for iPhone 11 in Rustic Brown leather
When we're talking about leather phone case manufacturing, these are usually mass-produced to offset a low selling price. Compared with other materials, leather is the most versatile and durable material for iPhone cases. Leather iPhone cases are on a higher-end of the market spectrum, so making these yourself for profit can set you up on a more expensive manufacturing cost.
The real question is, how can you make leather phone cases which can validate a reasonable selling price? The answer lies in mass production and investing in specialized equipment, which we will elaborate below.
How Leather Phone Covers are Made (in a nutshell)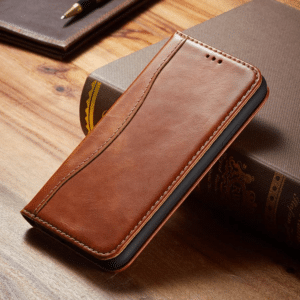 First, a pattern is made from a cell phone case design or template. Depending on the design, other materials may first be fused together with the leather before cutting. After cutting the leather according to the template, the leather is sewn using a specialized thread.
The last step is to trim the outer edges or chamfer/fillet them if necessary. If you'd like the leather phone case to have additional slots and accessories such as magnetic locks or buttons, it may be added in the final stages.
Different Leather Materials for Phone Cases
There are different leather materials to choose from depending on your preference. Most stylish and high-end iPhone cases, for example, are made from genuine leather. There are also tons of options made from faux or PU leather.
Regardless of the material, leather cell phone cases have almost the same weight and size as silicone, plastic and gel cases. They are considered more expensive as they are more elegant-looking and professional.
Some leather case styles feature a hard shell covered with an outer leather material and an inner felt material. Others have a flexible structure, chamfered at the edges and have a microfiber lining for protection.
Here are the most commonly used materials for leather phone case manufacturing:
1. Faux Leather
Options for faux leather phone cases include:
PU Leather
PU Leather + TPU
100% PU Leather (Vegan Leather cases)
Faux leather is usually made from synthetic materials such as Polyurethane (PU) leather. Typically, these have a nylon, rayon or polyester base material. Its surface is made to look in close resemblance with genuine leather, but is actually artificially-made. The leather comes out with a smoother surface than genuine leather with a sleek finish.
Faux leather is very easy to clean as compared with real leather.
2. Genuine leather (real leather/true leather)
Genuine leather is usually more expensive than its synthetic counterpart and is highly in-demand. It has a rough and durable surface. Genuine leather or real leather is scratch resistant, stain-resistant and the material improves as it ages.
Leather Phone Case Manufacturing Equipment
Here's a list of equipment for manufacturing leather phone cases:
Fusing Press Machine
Fusing Press Machine can be specialized fusing presses, hand iron, steam press, high-frequency fusing or continuous fusing systems. They are usually in the range of $1,000 to $7,000 per set.
Die Cutting Machine
A die cutting machine cuts various shapes of leather and other materials using a die. It features a couple of rollers and cutters which sandwiches the leather into a die and pushes it. Once you get the cut leather, you'll notice it's neat and accurately cut. The die cutting machine can produce several thousands of pieces per hour and costs between $4,000 to $20,000 per set.
Hot Forming Press
To bend or stretch the leather phone case according to its desired shape, it is processed into a hot forming press. The hot forming press is used to accomplish the forming process by hot stamping a part to conform with the shape of the die.
Trimming Hydraulic Press Machine
A hydraulic trimming press machine is used to bore and trim the product.
Manufacturing Process
1. Fusing Leather with other materials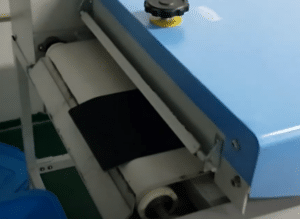 Photo credit: https://www.youtube.com/watch?v=-ovn47KAKcY
First, pre-cut leather and other desired material are fused together using a fusing press machine. The press machine works by conveying the leather and interlining fabric together in a conveyor belt while heating. The fabrics are then ironed and pressed into hot rollers.
2. Cutting the Leather in a Rough Outline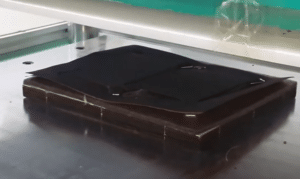 Photo credit: https://www.youtube.com/watch?v=-ovn47KAKcY
Next, the fused leather is cut in a rough shape/outline according to a template using a die cutting machine.
3. Forming the Permanent Shape of the Leather Case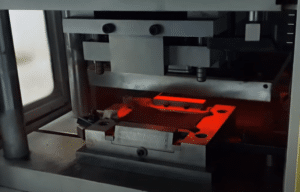 Photo credit: https://www.youtube.com/watch?v=-ovn47KAKcY
With a rough phone case shape finalized, the next process involves press forming the case to maintain a uniform shape according to a die. The die cut leather case is placed in a press forming machine where a force is applied to comply with the form and size of the die.
4. Trimming, Finishing and Boring
Photo credit: https://www.youtube.com/watch?v=-ovn47KAKcY
The formed product is trimmed using a hydraulic trimming machine to make sure all unnecessary fabric is removed. With this type of machine, the phone case is also bored to make way for audio output or for the front camera.
5. Post-Processing & Packaging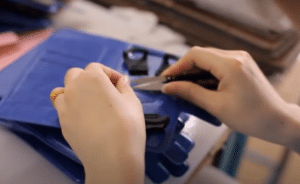 Photo credit: https://www.youtube.com/watch?v=dfhQMdSlyKQ
Finally, the phone cases are post-processed.
Wrapping Up
How leather phone cases are made depends on its manufacturer, but undergoes similar processes. Fusing the leather with interlining fabric, die cutting, hot forming, trimming and post processing are its basic manufacturing procedures. In this article, we've summarized the process on how to make leather phone cases in a factory.
But if you are interested in making DIY leather phone cases, here's a good video by Hanhs Atelier: